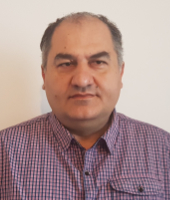 Associate professor
Department of Civil Engineering
Faculty of Civil Engineering

Contact:
Turnului no. 5, Brașov, Romania
Building J,Room JI4 C
Phone/Fax.: +40 268 548228
E-mail: mbotis@unitbv.ro
Research
interests
dynamics of structures
earthquake engineering
numerical modeling and simulation of stress states and state of strains in deformable solid bodies
Publications
(selection)
Botiș, M., (2010). The finite element method. Publishing house Napoca-Star Press. ISBN 978-973-647-749-2.
Botiș, M., Dosa, A. (2020). Comparative study statically determined trusses with trapezoidal and parabolic shape with large span IOP Conf. Series: Materials Science and Engineering 789 (2020) 012006. https://iopscience.iop.org/article/10.1088/1757-899X/789/1/012006.
Botiș, M., Cerbu, C. (2020). A Method for Reducing of the Overall Torsion for Reinforced Concrete Multi-Storey Irregular Structures. Applied Sciences Journal, Appl. Sci. 2020, 10(16), 5555; https://doi.org/10.3390/app10165555.
Cerbu C.,Wang H.,Botiș M.,F., Huang Z., Plescan C.,( 2020) Temperature effects on the mechanical properties of hybrid composites reinforced with vegetable and glass fibers. Journal Mechanics of Materials Elsiver Volume 149. https://doi.org/10.1016/j.mechmat.2020.103538.
Pleșcan, C. Pleșcan, E., Stanciu M., Botiș M.,Taus D., (2021). Sensitivity Analysis of Rigid Pavement Design Based on Semi-Empirical Methods: Romanian Case Study. Symmetry Journal Volume 13 (162). https://doi.org/10.3390/sym13020168.