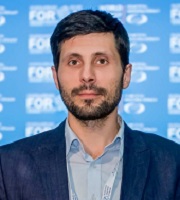 Associate Professor Dr. Eng.
Department of Product Design, Mechatronics and Environment
Faculty of Product Design and Environment
Contact:
B-dul Eroilor, nr. 29, Brașov, Romania
Building G, Room GI7
Phone/Fax: +40 268 473113
E-mail: bogdan.burduhos@unitbv.ro
Research
interests:
solar energy
photovoltaic systems
hybrid renewable energy systems
BEMS (building energy management systems
Publications
(selection)
Burduhos B.G., Visa I., Neagoe M., Devetakovic M., Cretescu N.R. Comparative Analysis of Software Accuracy in Photovoltaic Energy Estimation for a Temperate Mountain Climate, In Solar Energy Conversion in Communities, Springer Proceedings in Energy, 2020, pp. 125-139, https://doi.org/10.1007/978-3-030-55757-7_9
Vișa I., Duță A., Moldovan M.D., Burduhos B.G., Neagoe M., Solar Energy Conversion Systems in the Built Environment, Springer, 2020, ISBN 978-3-030-34829-1
Devetaković M., Djordjević D., Radojević M., Krstić-Furundžić A., Burduhos B.G., Martinopoulos G., N. Mircea, Lobaccaro G., Photovoltaics on Landmark Buildings with Distinctive Geometries, Appl. Sci. 2020, 10(19), 6696; https://doi.org/10.3390/app10196696
Burduhos B.G., Vișa I., Duță A., Neagoe M., Analysis of the conversion efficiency of 5 types of photovoltaic modules during high relative humidity time periods, Journal of Photovoltaics, 8 (6), pp. 1716 – 1724, 2018, DOI: 10.1109/JPHOTOV.2018.2861720.
Vișa I., Burduhos B.G., Neagoe M., Moldovan M.D., Duță A., Comparative analysis of the infield response of five types of photovoltaic modules, Renewable Energy, 95, pg. 178-190, 2016, DOI: 10.1016/j.renene.2016.04.003.