LÖRINCZ
(PURCARU)
Simina
Anamaria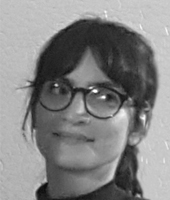 Lecturer PhD Arch.
Department of Product Design, Mechatronics and Environment
Faculty of Product Design and Environment
Contact:
Universității no. 1, Brașov, România
Building G, Room GI9A
Phone/Fax: +40 268 4129211
E-mail: simina.purcaru@unitbv.ro, simina.lorincz@unitbv.ro
CV
Research
interests:
history and theory of architecture
product design, industrial design
semiotics and symbolism within the creative act
creativity
education
Publications
(selection):
Purcaru, S.A. (2019). Semiotica creației: poíēsis şi poeta faber. București: Editura Paideia.
Purcaru, S.A. (2018). Poíēsis and fabrica—an investigation linking language to architecture. Bulletin of the Transilvania University of Brașov, Series IV: Philology and Cultural Studies, Vol. 11(60), Nr.1 (2018): 167-76.
Purcaru, S.A. (2016). Restoring poiesis and praxis in architecture—The School of Bunești. In Na(rra)tions-Essays on East and Central European Architecture, București: Ed. Arhitext.
Purcaru, S.A. (2016). Marginal Theory. Restoring Poiēsis in Architecture. Studies in History and Theory of Architecture, Vol. 4 (2016): 13-24.