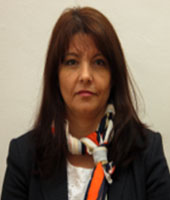 Professor
Department of Marketing, Tourism-Services and International Affairs
Faculty of Economic Sciences and Business Administration
Contact:
1, Colina Universității, Brașov, Romaniaia
Building A, Room A.1.1
Phone/Fax: + 40 268 419304
E-mail: codruta.baltescu@unitbv.ro
Research
interests:
tourism marketing
tourism and hospitality
sustainability marketing
Publications
(selection):
Băltescu, C.A., Neacșu, N.A., Madar, A., Boșcor, D., Zamfirache, A., Sustainable Development Practices of Restaurants in Romania and Changes during the COVID-19 Pandemic. Sustainability, 14(7), 2022, 3798.
Băltescu, C.A., Exploring Younger Generation Sustainable Consumption in the Restaurant Industry, BASIQ 2022 International Conference on New Trends in Sustainable Business and Consumption, pp. 560-566.
Turkes, M.C., Stăncioiu, A.F., Băltescu, C.A., Marinescu, R.C., Resilience Innovations and the Use of Food Order & Delivery Platforms by the Romanian Restaurants during the COVID-19 Pandemic. Journal of Theoretical and Applied Electronic Commerce Research, 16(7), 2021, pp. 3218-3247.
Băltescu, C.A., Millennials' choices in applying digital techniques for tourism purposes. Proceedings of the 15th International Conference on Business Excellence: Digital Economy and New Value Creation, 18-19 March 2021, Bucharest, Romania.
Brătucu, G, Băltescu, C.A., Neacșu, A.N., Boșcor, D., Țierean, O.M., Madar, A., 2017. Approaching the Sustainable Development Practices in Mountain Tourism in the Romanian Carpathians. Sustainability, 9(11), 2017, pp. 2051 – 2070.