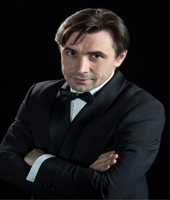 Lecturer PhD
Department of Interpretation and Music Pedagogy
Faculty of Music
Contact:
Andrei Șaguna 2, Brașov, România
Building Z, Room ZI7
Phone/Fax: (+40) 268.478 884
E-mail: traian.ichim@unitbv.ro
Research
interests:
arta interpretativă
managementul cultural
istoria teatrului
Publications
(selection)
Ichim Tr. (2010) The art of opera performance in the twentieth century, between tradition and innovation. In: ART AND SCIENCE, Symposium held within the artistic and scientific events dedicated to the 20th anniversary of the Faculty of Music in Brașov, Transilvania University of Brașov Publishing House 2010, 88–96
Ichim Tr. (2011) Lidia Lipcovscaia - a prominent figure of Bessarabian lyrical theater. In: ROMANIAN LANGUAGE, Nr. 11–12, year XXI, 181–187
Ichim Tr. (2011) Genesis and metamorphosis of the opera genre. In: Proceedings of the ART AND SCIENCE. National Musicology Symposium, edited at the Transilvania University of Brașov, 69–79
Ichim Tr. (2011) Musical connections of the Romanian Principalities with Austria from the first half of the 19th century. In: ȚARA BÂRSEI. The culture magazine of the "Casa Mureșenilor" Museum from Brașov. Nr. 10, 189–196
Ichim Tr. (2016) The evolution of the operatic phenomenon in Bessarabia at the beginning of the 20th century. In: Intertext, Nr. 1/2 (37/38), year 10, ULIM, pp. 288–294
Ichim Tr. (2019) Representative figures of Bessarabian singers at the Opera Theaters in Cluj and Bucharest from the interwar period. Music Publishing House.