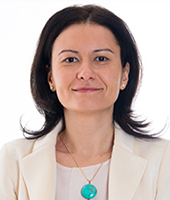 Professor
Department of Social Sciences and Communication
Faculty of Sociology and Communication
Contact:
Eroilor 25, Brașov, Romania
Building T, Room TII9
Phone/Fax : +40 268 474017
E-mail: carmen.buzea@unitbv.ro
Research
interests:
work motivation
cross-cultural research methodology
ethnic identity
Publications
(selection)
Meyers, M.C., Adams, B.G., Sekaja, L., Buzea, C., Cazan, A-M., Gotea, M., Stefenel, D., & van Woerkom, M. (2019). Perceived Organizational Support for the Use of Employees' Strengths and Employee Well-Being: A Cross-Country Comparison. Journal of Happiness Studies, 20, 1825–1841. doi: 10.1007/s10902-018-0026-8rison
Buzea, C., & Dimitrova, R. (2017). Positive Affect and the Experience of Meaning in Life Among Romanian Emerging Adults. In R. Dimitrova (Ed.), Well-Being of Youth and Emerging Adults across Cultures, NY: Springer.
Dimitrova, R., van de Vijver, F. J. R., Tausosa, J., Chasiotis, A., Bender, M., Buzea, C., Uka, F., & Tair, E. (2017). Ethnic, Familial, and Religious Identity of Roma Adolescents in Bulgaria, Czech Republic, Kosovo, and Romania in Relation to Their Level of Well-Being. Child Development, 88(3), 693–709. doi: 10.1111/cdev.12786
Buzea, C. (2014). Equity theory constructs in a Romanian cultural context. Human Resource Development Quarterly, 25, 421-439. doi:10.1002/hrdq.21184
Buzea, C. (2010). Motivația. Teorii şi practici. Iaşi: Editura Institutul European.