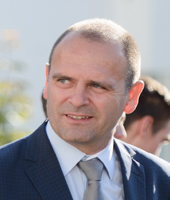 Associate Professor, PhD
Department of Social Sciences and Communication
Faculty of Sociology and Communication
Contact:
Eroilor 25, Brașov, Romania
Building T, Room TII9
Phone/Fax: +40 268 474017
E-mail: florin.nechita@unitbv.ro
Research
interests
Marketing și branding
Publicitate
Marketingul destinațiilor și marketing cultural
Publications
(selection)
NECHITA, F. (2020), Comunicarea de marketing a muzeelor în era digitală, Cluj-Napoca, Presa Universitară Clujeană.
LIU, Y., CHIN, W. L., NECHITA, F., CANDREA, A. N. 2020, Framing Film-Induced Tourism into a Sustainable Perspective from Romania, Indonesia and Malaysia, Sustainability 12(23), 9910.
NECHITA, F., REZEANU, C. I. (2019). Augmenting Museum Communication Services to Create Young Audiences, Sustainability, 11(20), 5830.
CESARANI, M., NECHITA, F. (2017). Tourism and the Sharing Economy. An Evidence from Airbnb Usage in Italy and Romania, Symphonya – Special Issue on Global Tourism Management, No. 1 – 2017, pp. 32-47.
NECHITA, F. (2012), Construcția de marcă în industria berii și în industria laptelui, Brașov, Transilvania University of Brasov Publishing House.