Monica
Ana
Paraschiva
PURCARU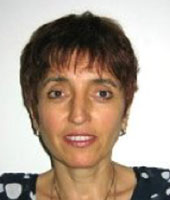 Associate Professor
Department of Mathematics and Computer Science
Faculty of Mathematics and Computer Science
Contact:
Iuliu Maniu 50, Brașov, Romania
Building P, Room PP3
Phone/Fax: +40 268414016
E-mail: mpurcaru@unitbv.ro
CV
Research
interests
geometry of Finsler, Lagrange and Hamilton spaces
geometry of higher order Lagrange spaces
complex Finsler geometry
DNA dynamics
didactics of mathematics
education
medicine
Publications
(selection)
1. N. E. Dina, C. M. Muntean, I. Bratu, A. Tican, A. Halmagyi, M. A. P. Purcaru, A. Coste (2022) "Structure and surface dynamics of genomic DNA as probed with surface-enhanced Raman spectroscopy: Trace level sensing of nucleic acids extracted from plants", Spectrochimica Acta Part A: Molecular and Biomolecular Spectroscopy 279, 121477, p. 1-7.
2. Purcaru, M. A. P. , Repanovici, A., Nedeloiu, T. (2019). Non-Invasive Assessment Method Using Thoracic-Abdominal Profile Image Acquisition and Mathematical Modeling with Bezier Curves. Journal of Clinical Medicine , issn:20770383.
3. Muntean, C. M., Bratu, I., Leopold, N., Morari, C., Buimaga-Iarinca, L., Purcaru, M.A.P. (2015). Subpicosecond surface dynamics in genomic DNA from in vitro-grown plant species: A SERS assessment – Physical Chemistry Chemical Physics (RSC Publishing), 17, 21323-21330 DOI: 10.1039/C4CP05425C.
4. Munteanu, Gh., Purcaru, M.A.P., (2009). On R-complex Finsler spaces. Balkan J. Geom. Appl. Vol.14, No.1, 52-59.
5. Purcaru, M.A.P. (2013). Ghid de bună practică. Didactica matematicii. Bucureşti: Editura MATRIX ROM.