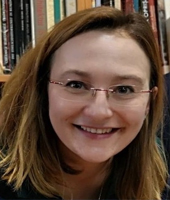 Associate Professor
Department of Psychology and Formation in Education
Faculty of Psychology and Educational Sciences
Contact:
Bălcescu 56, Brașov, Romania
Building K, Room KI14
Phone/Fax: +40 268 470190
E-mail: danapopa@unitbv.ro
CV
Research
interests
educational psychology
speech disorders therapy
learning difficulties
Publications
(selection)
Landøy, A., Popa, D., & Repanovici, A. (2020). Collaboration in Designing a Pedagogical Approach in Information Literacy. Springer.
Popa D. (2020). Tulburări de comunicare. Abordări terapeutice. ISBN 978-606-37-0770-4 Cluj: Presa Universitară Clujeană.
Popa, D., Repanovici, A., Lupu, D., Norel, M., & Coman, C. (2020). Using Mixed Methods to Understand Teaching and Learning in COVID 19 Times. Sustainability, 12(20), 8726.
Popa D. (2019). Ghid metodologic pentru disciplina Consiliere si dezvoltare personală. Învătământ special si special integrat. Brasov: Editura Universitatii Transilvania din Brasov.
Popa, D. (coord.) 2017. O nouă perspectivă asupra disciplinelor opționale la școlarii mici. Cluj-Napoca: Presa Universitară Clujeană.