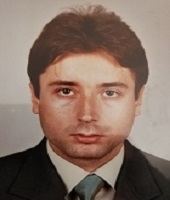 Associate Professor
Department of Mathemathics and Computer Science
Faculty of Mathematics and Computer Science
Contact:
Iuliu Maniu nr. 50, Brașov, Romania
Corp P, sala PII3
Tel./Fax: +40 268 414016
E-mail: razvan.bocu@unitbv.ro
CV
Research
interests:
Software systems engineering
Cloud and distributed infrastructures
Complex networks
Bioinformatics
Machine learning and artificial intelligence
Publications
(selection)
R., Bocu, C., Costache, A Homomorphic Encryption-Based System for Securely Managing Personal Health Metrics Data, IBM Journal of Research and Development ISSN 0018-8646, Volume 62, Issue 1, 2018, pp. 1:1-1:10.
R., Bocu, D., Bocu, M., Iavich, Objects Detection Using Sensors Data Fusion in Autonomous Driving Scenarios, Electronics 2021, 10, 2903. https://doi.org/10.3390/electronics10232903, 2021.
C., Costache, O., Machidon, A., Mladin, F., Sandu, R., Bocu, Software-Defined Networking of Linux Containers, IEEE Computer Society RoEduNet Conference, 2014.
D., Bocu, R., Bocu, THE FUNDAMENTALS REGARDING THE USAGE OF THE CONCEPT OF INTERFACE FOR THE MODELING OF THE SOFTWARE ARTEFACTS, Broad Research in Artificial Intelligence and Neuroscience ISSN 2067-3957, Volume 7, Number 1, 2016, pp. 91-102.
D., Bocu, R., Bocu, Remarks on Interface Oriented Software Systems Modelling, International Journal of Computers, Communications & Control ISSN 1841-9836, ISSN-L 1841-9836, Volume 8, Issue 5, October, 2013, pp. 662-672.