Graduates
in
front
of
the
Companies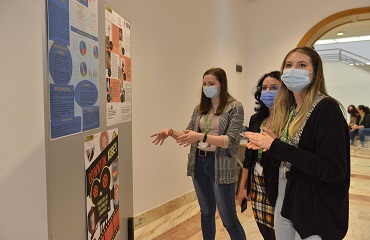 AFCO 2021
The greatest event of Brașov, in which the students of Transilvania University of Brașov present their projects in front of the companies, was held yesterday at "Sergiu Chiriacescu" Aula of the University.
This year's edition, which took place in a smaller and simpler setting, without audience, was attended by about 300 students who presented their papers in front of the companies' representatives. Overall, 15 companies answered the invitation to attend AFCO 2021.
The students had the opportunity to present their diploma papers or group projects, on an A1 poster, so as to convince both the multinational companies' representatives and the conference jury that their own project deserves to be declared the winner.
Moreover, the students had the opportunity to participate in interviews and discussions with the companies' representatives, therefore this event is for many a steppingstone for their future careers. Equally, the companies took the pulse of the current generation and found out what the students' research interests were.
The young people presented their works in the 11 sections, grouped by fields. Two of these were dedicated to team projects and doctoral students.
The project "Automotive HMI Display" of the student Niculcea Mircea Andrei, and the project "The Male Persons' Psychological Obstacles in Seeking Specialized Help" of the student Iulia Grabovski, are the works winning the grand special prizes Graduates in front of the Companies – AFCO 2021. Among the many projects submitted this year, the two papers of the students at the Faculty of Electrical Engineering and Computer Science, and at the Faculty of Psychology and Educational Sciences are ones that mainly caught the jury's attention.
In addition, 25 other projects were awarded, each declared the winner in the section in which they were entered. The list of all projects and sections can be consulted here.
The prizes consisted of electric scooters, smart watches, T-shirts and other small surprises for students.
This year's main partner of the event Graduates in front of the Companies was OTP Bank.