UNITER
Award
for
the
"Best
Play
of
the
Year"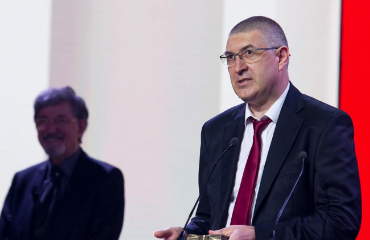 Awarded to Prof. Dr. Mihai Ignat, from the Faculty of Letters
The Romanian Association of Theatre Artists (UNITER) announced its winners at a festive gala hosted by I.L. Caragiale National Theatre of Bucharest. This year, the jury analysed a record number of plays - over 100. Among all of them, "The Snoring Princess", written by Prof. Dr. Mihai Ignat, Professor at the Faculty of Letters within Transilvania University of Brașov and Director of the University Library, was designated as "The Best Romanian Play of 2020". The award was presented to him by Princess Sophie, the fourth daughter of King Michael I and Queen Anne of Romania.
The play is to be published in a volume edited by the same Romanian Association of Theatre Artists.
This is the second prize for Prof. Dr. Mihai Ignat. In 2008, he won the same award for "Trades and Dead Ends".
The jury that designated the winning play consisted of: Marina Constantinescu, Mihaela Mihailov, and the couple Andrei and Andreea Grosu.
The UNITER 2021 awards gala can be watched here.