Brukenthal
–
an
early
European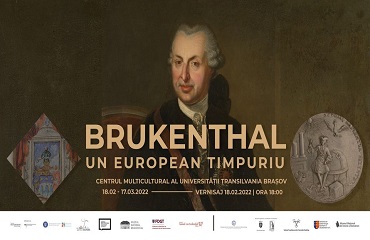 Exhibition opening - 18 February 2022, Multicultural Centre of the University
From 18 February to 17 March 2022, the trilingual documentary photography exhibition "Brukenthal – an early European" will be hosted by the Multicultural Centre of Transilvania University of Brașov. The project was initiated to celebrate 300 years since his birth (1721-1803) in 2021.
The Transylvanian Saxon baron, originating in the small town of Nocrich, was elected governor of Transylvania and, in this capacity as well, he brought a decisive contribution to the Europeanization of this region, and founded the first public museum in Southeast Europe.
Exhibition opening - 18.02, at 18:00.
The event will be broadcast live on the Facebook pages: @cutimp, @centrulmulticultural, @dkfoe.
Exhibition programme
Honorary guests:
- Assoc. Prof. Dr. Adrian Lăcătuș – Dean of the Faculty of Letters
- Dr. Harald Roth – Director of the German Culture Forum for Eastern Europe (Potsdam, Germany)
- Prof. Dr. Adrian Papahagi – UBB Cluj, Faculty of Letters / CODEX Centre
- Prof. Dr. Sabin Luca – Manager of Brukenthal National Museum.
Historical-musical presentation of the baron's biography, given by the historian Thomas Șindilariu, and accompanied by Samuel von Brukenthal's favourite music performed by Collegium Musicum Brukenthal (recordings with: Elisa Gunesch, Iuliana Cotîrlea, Gabriel Silișteanu, Brita Falch Leutert, Jürg Leutert).
Eighteenth-century musical compositions performed by students at the Faculty of Music in Brașov, study group - Steffen Schlandt:
Iulia Reitu (harpsichord), Diana Cristea (flute) - Johann Ulich, Suite
Geanina Sălăgean (harpsichord), Ioana Irimescu (flute) - J. S. Bach, Sonata in E♭ major for flute and harpsichord.
Given the current COVID-19 restrictions, access to the opening will be made by invitation or early booking at cultural@unitbv.ro, within the limit of available seats (30% of the seating capacity).
Opening hours
from 19.02.2022 to 17.03.2022, Monday-Friday, between 14:00 and 19:00.
Event organizers and partners in Brașov: German Culture Forum for Eastern Europe (Potsdam, Germany), Department of Interethnic Relations, Cu timp pentru cultură Association, Multicultural Centre of Transilvania University of Brașov, Democratic Forum of Germans in Cluj, Brukenthal National Museum
Media Partners: Radio Romania Brașov, Radio Romania Actualități, Radio Romania Cultural, Radio Brașov www.brasovultau.ro, www.stiripozitive.com, Allgemeine Deutsche Zeitung.
Exhibition:
Texts: Harald Roth and Thomas Şindilariu
Translations: Petra A. Binder, Thomas Şindilariu (Romanian), Harald Roth (English)
Graphics: Anna Dejewska
Documentary contributions: Dr. Alexandru Sonoc (MNBrukenthal)
Communication and coordination contributions: Dr. Dana Hrib. Dr. Alexandru Chituță (MNBrukenthal)
Initiators of this traveling exhibition:
German Culture Forum for Eastern Europe (Potsdam, Germany) in partnership with the Department of Interethnic Relations, Brukenthal National Museum, the Democratic Forum of Germans in Transylvania and Samuel von Brukenthal Foundation, and with the support of the National Museum of Romanian History, the National Archives of Sibiu, the Transylvanian Institute affiliated with Heidelberg University, the Black Church Archives, Verband der Siebenbürger Sachsen in Deutschland