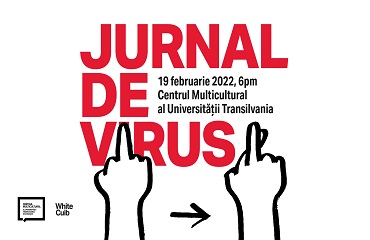 19 February 2022, starting at 18.00, Multicultural Centre of Transilvania University
We invite you, on Saturday, 19 February, from 18.00, at the Multicultural Centre, to the opening of the exhibition Virus Diary. Designed as an individual online project, Virus Diary has been attracting, shortly after its debut, many local and international artists, at the invitation of its initiator and organizer, Dan Perjovschi. Launched in March 2020, the Diary has been a form of adaptation to the restrictions of the moment, but also a response, taking on different artistic forms, to all that meant uncertainty and fear in the first months of pandemic. The event will be honoured by the presence of the exhibition curators, the artists Alina Andrei and Dan Perjovschi.
Entrance is free, within the limit of available seats (30% of the seating capacity). Access is conditional on the COVID vaccination certificate, which can be obtained on the website https://certificat-covid.gov.ro/. For bookings, please send us a message at cultural@unitbv.ro.
The exhibition will be open to the public from 19 February to 17 March 2022.