Free
tutoring
for
the
Baccalaureate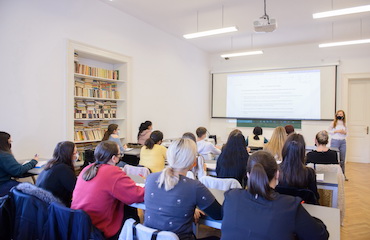 Starting with 2 March 2022
Transilvania University of Brașov is organizing free preparatory courses on the Baccalaureate exam topics, this year as well.
These courses may be attended not only by the 11th and 12th graders, but also by anyone willing to take the Baccalaureate exam this year. The tutoring is provided by UNITBV academic teaching personnel in 3 exam subjects: Romanian language and literature, mathematics and computer science. This year, the preparatory activities take place in a hybrid system: with physical attendance at the Romanian language and literature courses, and online in mathematics and computer science.
For Romanian language and literature, the courses require the tutees' physical presence in the T building of Transilvania University of Brașov, "Nicolae Titulescu" Aula, 25 Eroilor Avenue, starting with 25.03.2022.
For mathematics and computer science, the courses will take place online, and will be available on the edu.unitbv.ro platform, according to the schedule, starting with 02.03.2022 (mathematics) and 03.03.2022 (computer science).
Participation in all of these preparatory activities is free of charge. Tutees can choose the modules to attend, each according to his/her own options.
The information on the platform and logging in to the online courses, as well as the complete programme of activities are displayed on the website admitere.unitbv.ro, in the section "Baccalaureate tutoring" (https://admitere.unitbv.ro/pregatire-bacalaureat.html).
The courses of mathematics cover notions of algebra, mathematical analysis, trigonometry and geometry, whereas those of computer science include notions of algorithms, graphs, vectors and matrices, but also variants of problems. In Romanian language and literature, the courses aim to teach pupils how to stylistically analyse literary and non-literary texts and how to use the Romanian language correctly and appropriately in different communication situations. Moreover, the training courses in Romanian language and literature focus on the articulated comprehension and the description in clear concepts of the works of the great classics, canonical poets and interwar prose writers.
For more than 10 years now, Transilvania University Brașov has been organizing free Baccalaureate tutoring courses given by academic teaching personnel.