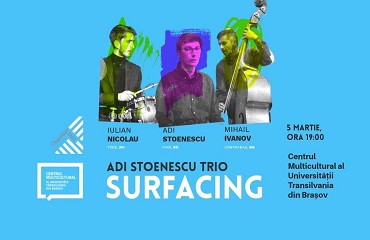 5 March 2022, from 19:00, at the Multicultural Centre
We invite you, on Saturday, 5 March, from 19.00, at the Multicultural Center, to a new concert within the series Chamber Jazz at Transilvania University. Adi Stoenescu Trio (Adi Stoenescu – piano, Mihail Ivanov – double bass and Iulian Nicolau – drums) presents SURFACING, a programme of compositions in the first audition, created especially for Chamber Jazz series, complemented with the creations included on the album Walking Light (Adi Stoenescu Group, November 2021).
The entrance is free. However, because of the limited number of seats (maximum 30% of the seating capacity), please make a reservation at the address cultural@unitbv.ro.