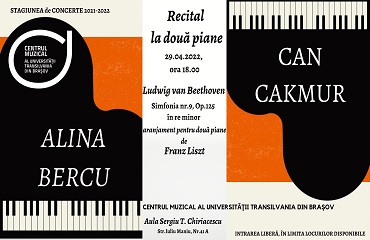 29 April 2022, at 18:00, in "Sergiu Chiriacescu" Aula of Transilvania University
As a follow-up of the event held on 27 April, the Concert Season of Transilvania University of Brașov invites the pianist Alina Bercu – whose name is already well-known and acclaimed by the audience of Brașov – to join Can Cakmur, with a view to creating a total performance. The programme includes Franz Liszt's two-piano arrangement for what the critics sometimes consider a genuine magnum opus of the composer Ludwig van Beethoven and of Classicism alike: The Ninth Symphony. Liszt's arrangement promises not only the stylistic and metaphysical catharsis inherent in Beethoven's musical piece, but also the virtuosity and depth of affect needed to perform what Liszt considered a tribute commensurate with his great predecessor.
The event will take place in "Sergiu Chiriacescu" Aula of Transilvania University, on 29.04.2022, at 18.00.
The entrance is free within the available seats.
Alina Bercu is giving concerts in Europe and America, in venues such as Carnegie Hall (New York), Mariinsky Theater (St. Petersburg), Vienna State Opera and Tonhalle Zürich. She is also a laureate of the international competitions Clara Haskil, Premio Trio di Trieste, as well as of the European Piano Competition in Bremen. Alina's recordings are honoured with awards such as the Golden Label and Cle d'Or. Since 2018, Alina has been an Assistant Professor at "Franz Liszt" University of Music in Weimar and "Phoenixsee" International Academy in Dortmund.
Can Çakmur, winner of Hamamatsu International Piano Competition and Scottish International Piano Competition, has so far given recitals and concerts in venues such as Suntory Hall (Tokyo), Foundation Louis Vuitton (Paris) and Wigmore Hall (London). His recordings have already been awarded the Diapason d'Or, ICMA Recording of the Year and Young Artist of the Year. Can is currently a student in the class of Prof. Grigory Gruzman, and in the past he studied with Diane Andersen.