The
22nd
National
Congress
of
the
Society
of
Anatomy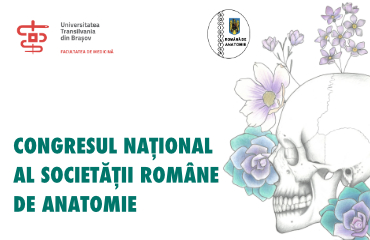 12-14 May 2022
The 22nd National Congress of the Romanian Society of Anatomy, with international participation, will take place this year in Brașov, the city at the foot of Tâmpa Mountain, and it will be hosted at "Sergiu Chiriacescu" Aula of Transilvania University. We hope that this scientific event will be attended by young doctors, students and academic teaching personnel from all university medical centers of Romania, and that it will be an opportunity for new important scientific partnerships, with a view to conducting future research. The congress is organized in hybrid format.
Students are also welcome to attend:
a special session dedicated to students where they can participate with oral presentations and e-posters;
a drawing competition, which will address topics in the field of Artistic Anatomy. The drawings should be made in A3 format (recommended) and comply with the rules of ethics and deontology.
See more information HERE.