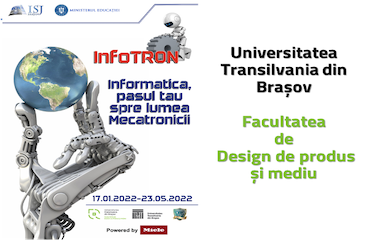 23 May 2022
Over 250 pupils at "Grigore Moisil" National College of Computer Science, together with students at the Faculty of Product Design and Environment within Transilvania University of Brașov participate in the project "Informatics, your Step toward the World of Mechatronics - InfoTRON". Within the project, the pupils are trained by academic teaching personnel, by specialists within the Hardware and Software Development Department of Miele Tehnica Brașov, and by students in Mechatronics, with a view to creating robots with various functionalities.
The training is done with LEGO® Mindstorms® EV3 and LEGO® Education SPIKE™ Prime kits for the 5th-8th graders, respectively with kits based on development systems with Arduino microcontrollers and components that enable creating applications with a progressive degree of complexity, for the 9th-12th graders.
The training sessions are followed by a stage of conception, design, execution and implementation of the pupils' own projects of mechatronic systems. At the end, the best performing pupils, coordinated by students, will compete to showcase their creativity and experience acquired in this collaboration.
The 5th-8th graders will participate in LEGO® Line follower robot competitions, whereas the 9th-12thgraders will take part in the competitions of projects for mechatronic systems based on Arduino development kits.
The best teams with line-follower robots will compete in the finals hosted at "Sergiu Chiriacescu" Aula of Transilvania University of Brașov, on 23 May 2022. At the same time, the winners of all the competitions will be awarded during the closing ceremony of the second edition of the project "Informatics, your Step toward the World of Mechatronics – InfoTRON_2022.
The necessary material support and logistics have been provided by Miele Brașov.