Occasional
special
scholarship
for
civic
responsibility
(CIVICA)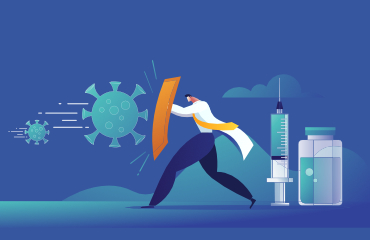 Document upload until 2 November
The occasional special scholarship for civic responsibility (CIVICA) was approved in the meeting of the Executive Board of 29.09.2021 and in the meeting of the Senate of 29.09.2021. CIVICA aims at the institutional policy to implement appropriate measures to reduce the impact of the pandemic on the academic community of UNITBV, including by supporting the anti-COVID 19 vaccination campaign, with addressability among the students of Transilvania University of Brașov attending the full-time, part-time (IFR) and distance learning (ID) courses, within the bachelor's, master's and doctoral study programmes (doctoral students in the normal study period - 3 years, respectively 4 years in Medicine).
CIVICA scholarship falls within the category of special scholarships, it is granted only once, in a single instalment amounting to 250 RON. The necessary fund for CIVICA comes from UNITBV's own revenues, including the annual scholarship budget allocated by the Ministry of Education.
In order to benefit from CIVICA scholarship, each interested student will have to apply through a standard form (to be found on the elearning platform) and to prove that s/he was vaccinated against COVID-19 until 31 October 2021 (with at least one dose for the vaccines that require a booster). Both the application and the certificate (pdf formats) will be uploaded on the elearning platform, within the course Covid-19 vaccination certificate. This course will be created, for each study programme and year of study, by the coordinators of the study programme, who are also the officers for the students' enrolment in the course. The students may upload the evidence until 2 November 2021. Applications submitted after this date will not be taken into account.
The submitted certificates will be verified between 3 and 15 November 2021; this process will be coordinated by the vice-deans for the students and will be carried out in collaboration with the student members of the faculty scholarship commissions. CIVICA Scholarship does not cumulate with the dormitory tax exemption approved at point 11 of HCA no. 30 of 10.09.2021, an exemption granted to the vaccinated students accommodated in dormitories.
The list of student grantees will be sent to the Vice-Rectorate for Students (ProSME) until 18 November 2021. Each faculty will draw up 3 lists, respectively one with the eligible students who do not benefit from another type of scholarship (excluding the social scholarship), the second list with the eligible students who benefit from another type of scholarship financed from the budget, within the category of scholarships for stimulating academic performance or special scholarships, and a third list of full-time ID, IFR, doctoral students and foreign students.
The payment of scholarships to the eligible students will be made during December 2021 and it will close on 31 December.