Concert
"The
Savior's
Seven
Last
Words
from
the
Cross"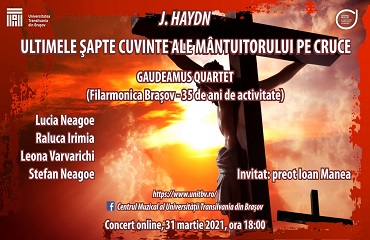 31 March 2021, at 18:00
One of the gems of the classical period, a work with deep Christian and classical valences, The Savior's Seven Last Words from the Cross by J. Haydn had its orchestral premiere in Cadiz, on Good Friday of 1787. Due to the success enjoyed by this work, the composer made an arrangement for quartet. This arrangement will be performed during the event prepared by the Music Centre on 31 March 2021 by Gaudeamus Quartet (Philharmonic of Brașov): Lucia Neagoe (violin I), Raluca Irimia (violin II), Leona Varvarichi (viola), Ștefan Neagoe (cello).
The seven sections related to the Savior's last sayings, intended for a reciter, will be uttered by the priest Ioan Manea.
The concert can be watched on the website of Transilvania University of Brașov or on the Facebook page of the Music Centre on March 31, 2021, starting at18.00.