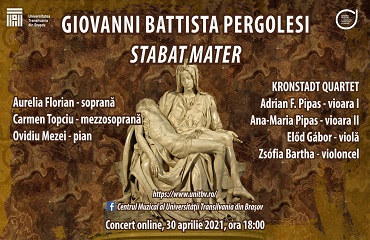 30 April 2021, online
The stage of "Sergiu Chiriacescu" Aula of Transilvania University of Braşov hosts on Good Friday an event of great Christian and musical significance, which traditionally marks the period of fasting preceding the Feast of the Lord's Resurrection: Stabat Mater by Giovanni Battista Pergolesi.
The musical arrangement of the hymn Stabat Mater was made in 1736, just a few weeks before the composer's death, and the work became, soon after that moment, a valuable piece of the universal cultural heritage. It is structured into 12 sections, most of them in minor key, and their name derives from the incipit of the text associated with each. The score will be performed by soprano Aurelia Florian, mezzo-soprano Carmen Topciu, pianist Ovidiu Mezei and the Kronstadt Quartet, which includes Adrian Pipaş (violin I), Ana-Maria Pipaş (violin II), Előd Gabor (viola) and Zsόfia Bartha (cello).
The concert can be watched on the website of Transilvania University Braşov or on the Facebook page of the Music Centre on 30 April 2021, starting at 18.00.
We wish you a pleasant audition and viewing!