Alone
Together
|
Lucian
Ban
|
solo
piano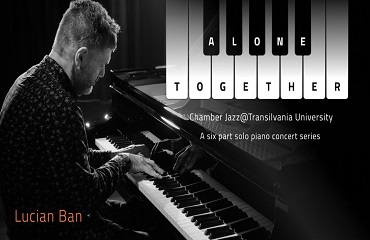 24 April 2021, 18:00 PM
Lucian Ban earned his reputation on the New York stage due to a series of first-hand projects and albums, the sound of his piano bringing him, from the critics, the comparison with Vladimir Horrowitz and McCoy Tyner.
He released more than 15 albums under his own name for American and European record companies. Together with the famous American double bassist John Hebert, Lucian Ban initiated and conducted the Enesco Re-Imagined Octette, dedicated to the reinterpretation of the works of the famous composer George Enescu, a project that enjoyed an excellent reception in the international press. In 2013 he made his debut for the famous record company ECM Records with "Transylvanian Concert", an album that will bring him international acclaim. In 2016, the American record company Sunnyside Records released the album "Songs from Afar" of his quartette Elevation. The famous American magazine DOWNBEAT awarded him a maximum rating of 5*, and All About Jazz calls the album "a triumph of musical and emotional communication", while the NY Jazz Record talks about a "love letter that the pianist sends to his country of origin". In 2018, he launched for the first time at the Lyon Opera Oedipe Redux, a radical reinterpretation of the famous Enescu opera for an octette, with reference names of international jazz, and having as guest the famous French clarinetist Louis Sclavis. In 2020, he released "Transylvanian Folk Songs", together with Mat Maneri and John Surman, and in April 2021 he released on Sunnyside Records "Blacksalt", recorded with Abraham Burton.
Alone Together is a series of concerts that will present six of the most representative Romanian jazz pianists who will be improvising solo - perhaps the absolute expression of chamber music - and answering questions from the series' curator, pianist Lucian Ban, from the Director of the Multicultural Center, Adrian Lăcătuș, or from our guests. For any jazz pianist, solo performances are the ultimate challenge, since you have nowhere to hide, and you have to face not only your own demons, but also the entire history of the jazz piano and the instrument itself. Each recital is professionally filmed and recorded live on our extraordinary Steinway, D series, and is broadcast on the Facebook and YouTube pages of the Multicultural Center.