Vocal-instrumental
Recital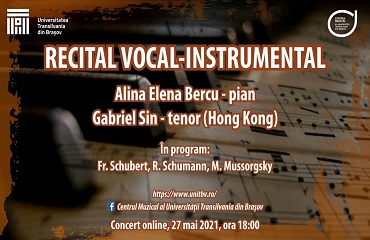 27 May 2021, at 18:00, online
The Concert Season of Transilvania University has the opportunity to host, on 27 May 2021, a special vocal-instrumental recital performed by two artists whose prolific concert activity confirms the high degree of their professional accomplishment. They are the pianist Alina Bercu and the tenor Gabriel Sin, the latter originally from Hong Kong. The recital will include lieds by F. Schubert and R. Schumann, as well as the arrangement made by Vladimir Horowitz for the music piece Pictures at an Exhibition by M. Mussorgski.
Franz Schubert is tributary to the vocal repertoire with over 600 lieds, stylized according to the temperament specific to the premises of the romantic century. The texts selected as a literary foundation come from the writings of the German poets of the time, with a distinct preference for the coryphaei of Weimar Classicism, J. W. von Goethe and F. Schiller. The tenor Gabriel Sin will present on the stage of "Sergiu Chiriacescu" Aula of the University, five lieds signed by Schubert: Fischerweise D.881, Seligkeit D.433, Frühlingsglaube D.686, Ave Maria D.839, Ganymed D.544. From Schumann's creation, five lieds will also be performed: Wenn durch die Piazetta op. 25 no. 18, Du bist wie eine Blume op. 25 no. 24, Waldesgespräch op. 39 no. 3, Auf einer Burg op. 39 no. 7, Widmung op. 25 no. 1. Even if his creation in the chamber vocal genre is less numerous, the refinement and sensitivity of the lieds equals the depth of the creative personality of Florestan and Eusebius. Schumann began to compose lieds in the last 16 years of his life, simultaneously with the intensification of his feelings for Clara Wieck.
Mussorgski composed Pictures at an Exhibition during two weeks in 1874, as a musical transposition of the impression left by the paintings of his recently deceased friend, Viktor Hartmann. Ever since its early years, the musical piece has earned a name for itself by the spectacular character coming from the emphasis placed on the element of virtuosity. It is structured into 15 sections, of which 10 are each inspired by a painting of Hartmann's, and the rest - interludes entitled Promenade. Alina Bercu will perform the arrangement made by Vladimir Horowitz in 1946.
The concert can be watched online on the web page of Transilvania University of Brașov, as well as on the Facebook pages of the Music Centre and Transilvania University, on 27 May 2021, at 18.00.