Free
Dormitory
Accommodation
for
Vaccinated
Students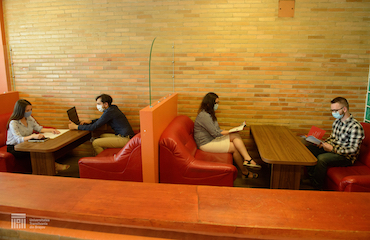 This exemption only applies for November.
The students of Transilvania University of Brașov who opted for dormitories will benefit from free accommodation for November if they submit the certificate of vaccination. This exemption was approved by UNITBV Management, as an additional measure to reduce the risk of SARS-COV-2 virus infection among students. Thus, the students vaccinated with at least one dose until 1 October, who provide proof of vaccination, will not pay the dormitory fee for November.
As in the previous academic year, the accommodation in UNITBV dormitories will be limited to a maximum of three people in a room, so as to comply with the rules imposed by the health authorities.
During the academic year 2021-2022, approximately 3,300 students will be accommodated in the 13 dormitories of Transilvania University of Brașov. Added to the aforementioned, another 300 international students will stay in dormitory 10. The international students of UNITBV will be accommodated provided they submit a vaccination certificate or a negative PCR test with the result obtained in the last 72 hours prior to the accommodation.
The accommodation on the campus of Transilvania University in Brasov will take place starting with 27 September.
Over 20,000 students study at Transilvania University of Brașov.