Awarding
the
degree
of
"Doctor
Honoris
Causa"
of
Transilvania
University
to
Professor
Dr.
Viorel
Bostan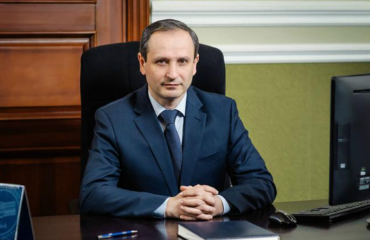 7 October 2021
Today, Transilvania University of Brașov awards its highest distinction, to wit Doctor Honoris Causa, to Rector Professor Dr. Hab. Viorel BOSTAN, an exceptional personality of the higher technical education in the Republic of Moldova, with an outstanding didactic and scientific activity.
Prof. Dr. Viorel Bostan attended the Bachelor's degree studies in "Mathematics - Mechanics" at the University of Bucharest, Faculty of Mathematics, which he graduated from in 1995. A year later, he was awarded the Master's degree diploma in Mechanics by the same university. In 1997, he enrolled for a Doctorate at the University of Iowa, United States of America, which he successfully graduated from in 2004, being awarded the Doctor's Degree Diploma in Applied Mathematical and Computational Sciences.
An exceptional didactic and scientific activity has followed and is on the rise, with internationally recognized results, in the field of continuum mechanics, numerical analysis, mathematical modelling in engineering and renewable energy systems.
His remarkable scientific results and expertise led to his involvement in the design of the "Republic of Moldova" microsatellite. He conducted research on the calculation of the strength structure for the microsatellite, by its adaptation to the parameters developed by the spacecraft launching the satellite into outer space. The many results of his scientific research are published in 5 monographs, of which 2 at Springer Publishing House, 1 didactic publication, and 22 patents for invention. The obtained results are also reflected in his 175 scientific papers written either as a main author or collectively, and published in mainstream journals or in the volumes of national and international conferences.
Through his entire academic, scientific and managerial activity, he has always brought and increasingly brings a significant contribution both to the education of generations of professionals and to the institutional development and increased prestige of the Technical University of Moldova.
The "Doctor Honoris Causa" award ceremony takes place on Thursday, 7 October, at 12:00, in "Sergiu Chiriacescu" Aula, during a festive meeting of the University Senate, also honoured by the presence of Prof. Dr. Eng. Ioan Vasile Abrudan, Rector of Transilvania University of Brașov, Prof. Dr. Eng. Mircea Țierean, President of the Senate of Transilvania University of Brașov, Prof. Dr. Eng. Codruța Jaliu, President of the Commission for Awarding the DHC degree of Transilvania University of Brașov.