Concert
Chamber
Jazz
@
Transilvania
University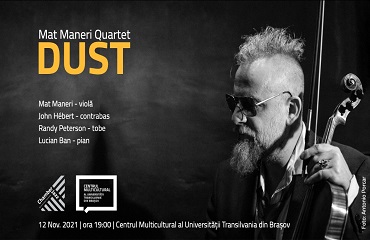 12 November 2021, at 19:00
We invite you to the first concert Chamber Jazz@Transilvania University, entitled Mat Maneri Quartet – DUST, at the Multicultural Centre of Transilvania University on Friday, 12 November, from 19.00, within the 2021-2022 season.
The quartet, consisting of Mat Maneri (viola), Randy Peterson (drums), John Hébert (contrabass), Lucian Ban (piano), will play music from the DUST album, released in late 2019 by Sunnyside Records, as well as new songs, composed and recorded in Hudson Valley, for their next album, titled ASH.
The music of Mat Maneri takes its origin in masters of improvisation such as Paul Bley and Paul Motian (with whom Mat Maneri collaborated), and has a well-defined personal style, which has been cultivated over the years. Released by Sunnyside Records, Dust proposes a programme of spectacular compositions highlighting the distinct way in which Mat Maneri combines jazz and tonal music, and having received commendatory reviews in Rolling Stone, The Wall Street Journal, Jazz Times, All About Jazz, and more.
Entrance is free, within the limit of available seats (maximum 30% of the hall capacity).
Access is conditional on the COVID vaccination certificate, which can be obtained from the website https://certificat-covid.gov.ro/.