Chamber
Jazz
at
Transilvania
University
of
Brașov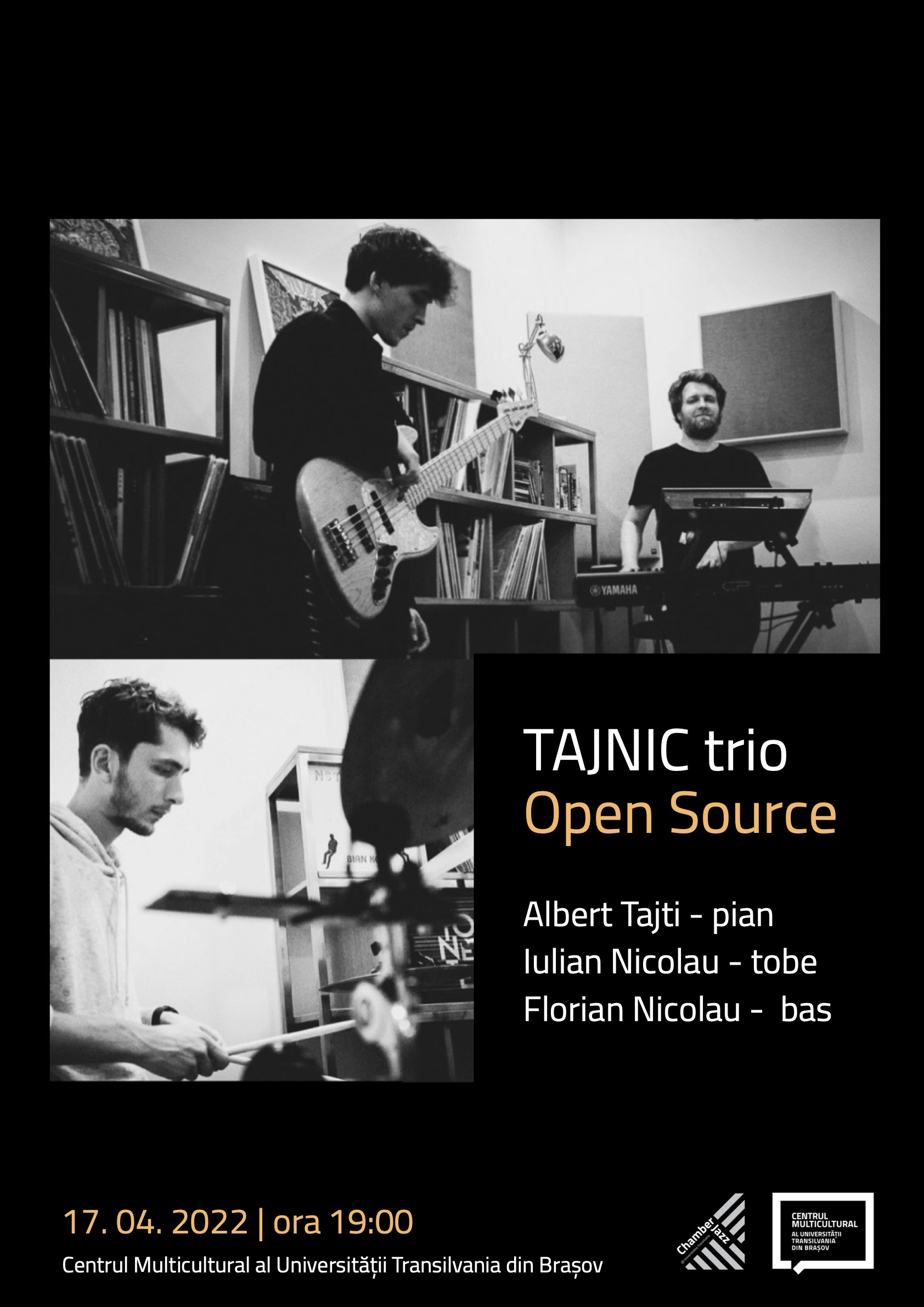 17 April 2022, at 19:00
On Sunday, 17 April 2022, starting at 19.00, the Multicultural Centre of Transilvania University of Brașov will host a new concert of the series Chamber Jazz at Transilvania University, 2021-2022 season: TajNic Trio | Open Source. Albert Tajti (piano), Iulian Nicolau (drums) and Florian Nicolau (bass) will perform compositions based on their common musical experiences over the past 5 years, marked by jazz, funk and contemporary music influences, complemented by a series of spontaneous creations.
Jazz composer and pianist, Albert Tajti has been on the stages of Romanian jazz festivals for 10 years, playing with some of the greatest musicians and performers. His interest in new sounds led him to explore a wide range of musical genres: funk, afro beat, electro and hip hop.
A graduate of the National University of Music, Iulian Nicolau has collaborated with important names of Romanian jazz, such as Mircea Tiberian, Nicolas Simion, Garbis Dedeian. In 2021, together with 7th Sense band, he won the Best Band Award at Sibiu Jazz Festival.
Florian Nicolau has participated in numerous projects as an instrumentalist, co-producer and composer, addressing a variety of musical styles, such as progressive rock, jazz fusion, classical, symphonic, electronic and synth pop.
On 13 May, Chamber Jazz at Transilvania University continues with the recital of Armen Donelian, a well-known pianist, composer and professor from the United States; and on 18 June, the 2021-2022 season ends with Lucian Ban, who will give the concert Ways of Disappearing, part of the national tour promoting the album of the same name.
The entrance is free, and reservations can be made at cultural@unitbv.ro.