Piano
Recital
–
Can
Çakmur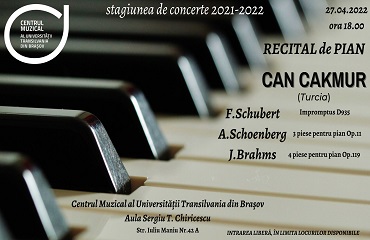 27 April 2022, at 18:00
"Sergiu T. Chiriacescu" Aula of Transilvania University of Brașov will host, on 27 April 2022, a new event within the Concert Season, namely Can Çakmur in a unique piano recital. This time, the audience of Brașov is warmly welcome to attend the artistic act in the actual concert hall, where they will have the opportunity to enjoy a thoroughly structured programme, in an exceptional performance of the Turkish pianist. The programme includes three moments interweaving, as a whole, just like a syllogism: the two premises (F. Schubert – Impromptus D. 935 and A. Schoenberg – Three Piano Pieces Op. 11) concur, each of them through its distinctive attributes of formal and respectively harmonic nature, to outlining the conclusion: J. Brahms – Four Piano Pieces Op. 119.
The event will take place at "Sergiu T. Chiriacescu" Aula of Transilvania University of Brașov, on 27 April 2022, starting at 18.00. The entrance is free within the available seats.
Can Çakmur, winner of Hamamatsu International Piano Competition and Scottish International Piano Competition, has so far given recitals and concerts in venues such as Suntory Hall (Tokyo), Foundation Louis Vuitton (Paris) and Wigmore Hall (London). His recordings have already been awarded the Diapason d'Or, ICMA Recording of the Year and Young Artist of the Year. Can is currently a student in the class of Prof. Grigory Gruzman at Franz Liszt University of Music in Weimar, and in the past he studied with Diane Andersen.