The
international
scientific
conference
"Ethical
values
in
today's
society.
New
challenges
and
trends"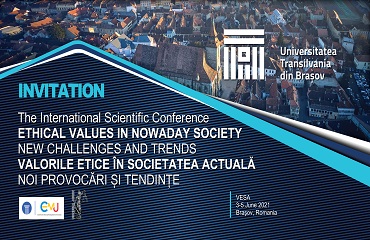 3-5 June 2021
Between 3 and 5 June 2021, Transilvania University of Brașov, in partnership with the Council of Ethics and University Management, organizes the second edition of the international conference "Ethical values in today's society. New challenges and trends" (VESA).
The conference will stand out through a series of special events, such as the launch by CEMU of the Reference code of university ethics and deontology, for public consultation, as well as the launch of the Journal of Ethics and Deontology, under the auspices of Pro Universitaria Publishing House, part of Universul Juridic editorial group.
The conference organizers want the debates and research on ethics, and especially academic ethics, in the context of new pandemic challenges and new trends in the field, combined in an interdisciplinary scientific approach, to facilitate the exchange of good interinstitutional practices between the participants.
The conference offers the participants the possibility to defend scientific papers, in accordance with the topics addressed: University ethics and ethical issues as an effect of the Covid 19 pandemic, Ethics in research and dissemination, Ethics of professions, Bioethics.
The conference program is available HERE.
More information is available at: http://vesa.unitbv.ro/