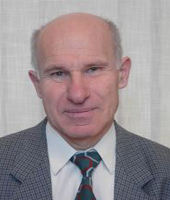 Profesor universitar pensionar
Departamentul de Inginerie Mecanică
Facultatea de Inginerie mecanică
Contact:
Str. Universității nr.1, Brașov, Romania
Corp C, sala C.I.11
Tel./Fax: +40 745 58 20 34
E-mail: eet@unitbv.ro
Interese
de
cercetare:
stări tensionat-deformate ale corpurilor solide;
caracteristici mecanice ale lemnului masiv și ale materialelor lemnoase;
comportamentului mecanic al oaselor fracturate prin prisma tipului de fixator utilizat;
comportamentul mecanic al materialelor dentare;
protecția termoizolatoare a structurilor de rezistență din construcții civile și industriale, asigurată de vopsele termospumante (intumescente)
Metodele
de
investigare
utilizate:
Tensometria Electrică Rezistivă;
Holografia Granulară (ESPI-2D);
Corelarea Digitală a Imaginii (VIC-3D);
Analiza Dimensională
Publicații
(selecție)
Száva, I., Vlase, S., Gálfi. B.P., Munteanu, R.I., Ionescu, R.D., Evaluation of the clean softwood components' longitudinal Young's moduli by means of overall measurements, Wood Research, ISSN: 1336-4561, Vol. 60 (4): 2015, pp. 555-566.
Száva, D.T., Bögözi, B., Száva, I., Tărcolea, M., Comăneanu, R.M., Ormenişan, A., Plastic materials used in experimental investigations regarding dental implants biomechanics, Materiale Plastice, ISSN: 0025-5289, Vol. 52, nr. 2, 2015, pp.221-224.
Hota, H., Bobancu, Ş., Dani, P., Gálfi, B.P., Munteanu, I.R., Száva, I., New testing bench for the rolling friction coefficient's evaluation, Annals of Faculty Engineering Hunedoara- International Journal of Engineering, ISSN: 1584-2673, Tom XIII (2015), Fascicule 3 (August), pp. 223-226.
Száva,I., Kakucs,A., Jármai,K.,Dani,P.,Varga,B.,Gálfi,B.P., Numerical approach and preliminary experimental results of intumescent paints' behaviors at medium temperatures.Metalurgia International Vol. XIV (2009), ISI-cited journal, Special issue No. 2. pp. 83-86. ISSN 1582-2214.
Borbás L., Száva I., Gálfi B., Kakucs A., A New Approach in the Poisson Ratios Establishing of the Soft-Wood Materials Components, TRANSACTIONS of FAMENA, Vol. 36, No. 2, University of Zagreb, Croatia, 2012, ISSN 1333-1124, pp. 23-30.
D.T. Száva, B. Bögözi, B.P. Gálfi, I. Száva, R.D. Ionescu, R. Munteanu, Dental Implants Analyis by Means of Video Image Correalation Method, 8th International Conference Interdisciplinarity in Engineering, INTER-ENG 2014, 9-10 October, 2014, Târgu-Mureş, publicată în Procedia Technology, 19 (2015), 950-957, Science Direct, Elsevier.
I. Száva, K. Jármai, S. Vlase, T. Bondár, V.V. Ungureanu, B.P. Gálfi, P. Dani, R. Munteanu, Fl.L. Tămaş, The Intumescent Paint Layer's Thickness Influence on the Load-Bearing Capacity of the Steel Joints, Published in the Physical Aspects of Civil Engineering, Special Issue of the Advanced Materials Research Journal, (indexed in SCOPUS database, Web of Science, etc.), Vol. 969 (2014), pp. 332-339, Online available since 24 June, 2014 at www.scientific.net, DOI: 10.4028/www.scientific.net/AMR.969.332
Száva, I., Gálfi, B., Optical Experimental Methods Applied In The Investigation Of The Orthotropic And Anisotropic Materials And Structures, Lucrările Conferinţei ICSWE 2013, "Wood Science And Engineering In The Third Millennium" – ICWSE 2013, Transilvania University of Braşov, 7-9 Noiembrie 2013, in: Pro Ligno, Vol. 9, Nr. 4, pp. 613-622, ISSN-L 1841-4737; ONLINE ISSN 2069-7437. Indexata in bazele de date internationale CABI, EBSCO si DOAJ (http://www.proligno.ro/en)\
Száva, I., Necula, R. D., Gálfi, B.P., Száva, D., Şamotă, I, New Methods in Bio-mechanical Experimental Investigations, Proceedings of the 50th Annual Conference on Experimental Stress Analysis, EAN-2012, June 4-7, 2012, Tábor, Czech Republic, Published by The Czech Technical University of Prague, ISBN 978-80-01-05060-6, pp. 449-456. Thomson Reuter Web of Science
B. Galfi, I. Szava, A. Kakucs, V. Ciofoaia, P. Orban, Theoretical and experimental investigations on early-, and late-wood mechanical characteristics establishing, International Conference Wood Science and Engineering in the Third Millennium – ICWSE 2011, Transilvania University of Brasov, 3rd – 5th November, 2011, Volume of the Conference, Edited at Transilvania University Press, ISSN 1843-2689, pp. 63-70. Bazele de date internationale CABI, EBSCO si DOAJ (http://www.proligno.ro/en).
B. Gálfi, R. Necula, I. Şamotă, I. Száva, A. Kakucs, H. Hoţa, A Generalized Electric Strain Gage-Based Evaluation of The Long Human Bones Fixators' Stiffness, Acta Technica Napocensis, Tehnical University of Cluj-Napoca, Series: Applied Mathematics and Mechanics, 2010, Nr. 53, Vol. II, pag. 359-362, ISSN 1221-5872.
H. Hoţa, Ş. Bobancu , B. Gálfi, I. Száva, An Efficient Stand And Some Preliminary Results On The Rolling Friction Coefficient Evaluation of The Steel-Steel Elements, Acta Technica Napocensis, Tehnical University of Cluj-Napoca, Series: Applied Mathematics and Mechanics, 2010, Nr. 53, Vol. II, pag. 253-256. ISSN 1221-5872.
I.Száva, B.P. Gálfi, S. Vlase, R.D., Ionescu, M.L. Scutaru, R.I.Munteanu, The optimal design of the testing specimens for a more accurate evaluation of the glues' mechanical properties, Pro Ligno vol. 11 nr.2/2015, pp 260-267, ISSN-L- 1841-4737.